Patagonia: See all of the Sights in 1 Week
Planning a trip to Patagonia is stressful to say the very least. I literally planned this trip twice and bailed on it before following through with this one! Patagonia has become such a hot spot for adventure seeking tourists, that every year the rules change and costs of entrance to places change and it can be impossible to keep up - Argentinian and Chilean websites aren't clear enough to feel confident about a lot of things before starting your trip. Also, foreseeing the weather is obviously impossible, so being flexible with dates to accommodate for bad weather is tough to do when on a timeline and when points of interest are spread out.
So here is my blog post on my latest travel adventure - Chilean and Argentinian Patagonia - on a budget and a timeline. There were let downs and there were successes, the weather was not on our side, but going at the tail end of season was definitely a good choice. Our main points of interest were seeing Torres del Paine, Fitz Roy, Perito Moreno glacier, and obviously penguins.
Our first idea was doing the W or the O in Torres Del Paine, and when trying to plan our trip out, I found out that you absolutely must have your exact trek planned out to the day, with a reservation made for each campsite. This was just crazy to me, even with our flights booked, it felt impossible to figure out an exact itinerary, and especially with not knowing weather conditions, how can you be so sure how far and where you will hike each day? Also, even a month in advance, various sites were already fully booked with no availability, and the ones that did were over $100 - a steep price for tent camping. So we decided to see Torres without the through hiking. If price isn't a problem for you, you can book tours that will take care of allllll of this for you -- but for a lot of money that we were not willing to spend!
DAY 1 (April 1, 2018)
Starting from Santiago, Chile, we flew to Punta Arenas. We chose to rent a car in Punta Arenas rather than travel around by bus for more flexibility and faster travel. There were 3 of us in total, so splitting the cost wasn't bad. We went with Hertz. Hertz will do all of the paperwork for you for crossing over into Argentina for a fee. Everything was smooth with the rental car, except they gave us a manual instead of an automatic -- keep in mind that this happens a lot in Chile. In Punta Arenas there is plenty of supermarkets for grocery shopping, and if you can't find gas for your camping stove, you can find that in ample supply in one of the many outdoor gear shops in Puerto Natales.
From Punta Arenas, we drove the 2.5-3 hours to Puerto Natales, filled up on gas again, and drove the extra hour or so to Torres. On your gps, you want to put 'Lago Amargo' as your destination to get to the entrance of Torres closest to the Torres hike. You can arrive to the entrance at any time, we got there at 7pm without any problems. From there you pay your entrance fee (21mil CLP/$35 for tourists), and they will tell you if the nearest campsite in the park has availability. You can pay when you get there (about 8000 CLP/ $13 per person to camp). The fee to enter the park allows you to come and go for 3 days without paying again. We camped at this site in the park, but if that was full, the plan was to camp in the free campsite outside of the park or do a wild camp outside of the park, which is legal in Chile except inside of the national park.
DAY 2
The next day we did a full day hike from the campsite to Mirador Torres del Paine. This was quite the hike, especially in on and off rain like we had!! It was very beautiful the whole way there, it was warm starting out but was very cold at the top. We were in good physical condition and it took us 7 hours there and back. There is a Refugio on the way up that you can stop in for snacks and drinks, but they are very expensive. The last part of the hike is literally going up a waterfall (waterproof boots are a MUST) and is quite steep. You can refill your canteens with glacier water, we didn't get sick when we did that. Despite the clouds and rain, we were still able to see the Torres at the top!! There may not have been clear blue sky behind them, but the lagoon's teal color really popped in the photos thanks to the overcast weather. So, don't let clouds stop you from trekking.
When setting off to see Torres from the park entrance... be prepared!!!
DAY 3
We had planned on driving outside of the park and free camping where there are many nice hikes and incredible views with the Torres, but since the weather was so poor we decided to skip it and head over to Argentina early. If you want to do this, I had found a couple of blogs out there that had detailed itineraries for driving Torres del Paine. We took Ruta 9 to cross over onto Ruta 40 in Argentina. Once we got into Argentina, we found a sketchy little gas station with 1 or 2 pumps, it was cash only and they will accept CLP.
We spent an extra day in Calafate than originally planned, but we LOVED it. We camped at Lago Roca inside of Parque Nacional Los Glaciares, touted as Argentina's best campground, and once we got there we weren't surprised. The campground was absolutely gorgeous overlooking Lago Argentina, the bathrooms are clean and even has a space heater in the shower area, and the staff were super helpful. The cost was 240 AP ($12) per person, per night. I am not sure if there was a limit to number of people per campsite, but the sites were a good size and we parked our car at ours. You could buy basic food items there (we bought wine), they have a daily menu for cheap, and WiFi is available for purchase. They also have an indoor cooking area that is well maintained. Besides free camping, you can also book small heated cabins for 2 for about 1000 AP ($50) a night. We bought BBQ supplies (meat and coal) in Calafate at the supermarket and feasted at Lago Roca. We made this reservation the day of, during high season this is likely fully booked.
DAY 4
Since we had a whole day there, we decided to splurge on a glacier boat tour. For $150, we did a full day (9am-5pm) boating to 3 different glaciers, including Perito Moreno, with one mini off boat trek, and a cruise among huge blue icebergs. We booked at the campground, and the company was called Marpatag. The tour guide on the boat did the tour in english and in spanish. We were fed a gourmet lunch of delicious lamb sandwiches, and we also got some glacier ice! It was really delicious with the whiskey that we brought on board!
Perito Moreno is definitely a must see when you go to Patagonia, it is one of only 3 glaciers in the world that is actually growing rather than receding. If you don't want to splurge on time and money for the full day, you can take a short boat ride just to P. Moreno for about $25 pp. These boats leave every 40 minutes or so during the day. While you may think the $150 boat tour is steep, this is just a little more than what you would pay for a round-trip catamaran in Torres Del Paine just to see Glacier Grey.
Besides seeing the glaciers, there is a half day hike that you can do outside of the campsite called Cerro Cristal, at the top of this hike on a clear day you can see all of the Andes mountain range, including Torres. We didn't get time for this, but it sounded pretty awesome. On the drive between Calafate and Lago Roca campground, you will see tons of wildlife. We spotted a red fox, loads of rabbits, hawks, eagles, and 3 Condors!
DAY 5
After Calafate, we had Chalten to get to next on the itinerary. We drove all day to get to Chalten, and we decided last minute to book a place to stay in the town that night since we didn't think we would have time to camp that night. Thanks to it being off season, there was plenty of availability and it wasn't expensive. We had originally thought of through hiking and camping around Fitz Roy but decided against it when once again weather was looking iffy for us. Chalten is a new town and has many great restaurants to choose from, but I imagine that they fill up fast in high season as some of the places had a wait when we were there.
DAY 6
Fitz Roy!! This is another intense all day hike from Chalten, and there are a couple of ways to go about it. You can walk up the entrance right in town, take that hike up to Laguna Los Tres and back, or you can book a cab to take you further up to another hike that will lead past a beautiful glacier lookout and then bring you down to Laguna Los Tres (the lookout for Fitz Roy) and you take the hike back into town on the way back. We chose the latter to see more. You can most definitely through hike here, there is no entrance fees and camping in the campground is free. Campgrounds have a porta-potty sized bathroom with a hole in the ground.
The trek to Fitz Roy is all fun and games until you get to the last km which is a steep incline through a poorly defined rock path with a lot of water running through it. Since we went at the end of season, a lot of the water had iced over so we were extra careful to not slip. This is definitely for advanced hikers and we recommend having hiking poles. The top is well worth it though, absolutely gorgeous, and absolutely freezing. With our lack of weather luck, the cloud cover was so thick when we got up there that we could not see Fitz Roy but the lagoon and the glacier was still breathtaking. Of course, once we got down and hiked a bit out, we turned around and Fitz Roy had peaked out of the clouds.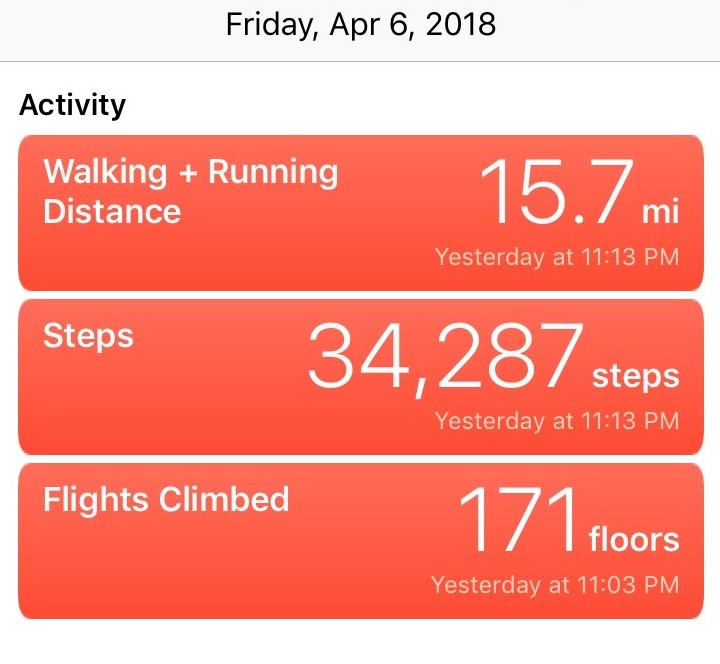 The Fitz Roy hike, according to an iPhone.
All in all, I would say that the hiking in Chalten around Fitz is even more striking than Torres Del Paine. It is also cool that there are no reservations required to camp, and no fees. Who knows how long this will last, but Argentina has much less organization and infrastructure than Chile does so it would be a big task for them to change things. It was all still very nicely maintained with minimal litter, however I noticed a lot of toilet paper hidden in the brush, we all need to be mindful of that. TP is not acceptable litter!!
DAY 7
I would say the Fitz hike definitely exhausted us way more than the Torres hike. Take it easy after this one! We had a long day of driving here back to Punta Arenas. We decided to go the long way and stop in Rio Gallegos for dinner on the way back (only 20 minutes longer than taking the same way back as we came through Chile). Maybe we hit the wrong places there, but we weren't really impressed with anything there.
DAY 8 (April 8, 2018)
Our last day in Patagonia was supposed to be reserved for a day trip to see the penguins at Isla Magdalena, but much to our dismay we found out that the penguins had fully migrated just days before our arrival (On April 5), so no penguins for us. Instead we drove down to Fuerte Bulnes, an abandoned military base turned museum. The drive was beautiful, we thought we were seeing penguins but really there were just Cormorants, and we saw a lot of dolphins playing. Although we didn't see any, this is also a drive that has a lot of whale sightings. We got pizza and Calafate Sours at Bar Bulnes that night and we highly recommend it!
PRO TIPS
Buy dehydrated food before arriving in Patagonia - I bought some packs on Amazon for way cheaper than it is in Chile and Argentina (however you can find dehydrated food in Puerto Natales).
Buy an extra gas container in case you get stuck without gas on the road (not so many gas stations around), you can buy one of these in Sodimac in Punta Arenas.
Gas is MUCH cheaper in Argentina so do a good fill up there whenever you get the chance!
Border crossings should be done in the day time, they close at night. Argentinean border crossings are very lax, we didn't even get stamped when leaving, but Chilean border crossings are much more structured.
Fruits and vegetables will be confiscated crossing into Chile but not necessarily while crossing into Argentina. Our dehydrated food, nuts, and processed food was fine.
If you use T-mobile: service works well in Punta Arenas, Puerto Natales, and Calafate even at the campsite. There is no service at all inside Torres del Paine. Chalten indicated that there was some service but there wasn't any at all. It is best to get your GPS sorted in the cities before you head out, because the signal can disappear pretty abruptly.
Camping in Patagonia is COLD. Have a good sleeping bag, and I recommend getting Snugpak jungle blanket from Amazon -- it is super lightweight but SUPER warm. If you have a canteen that isn't insulated (or an empty wine bottle) you can fill it with boiling water and bring it into your sleeping bag for extra warmth.
Don't forget to add the whiskey to your day packs ;)